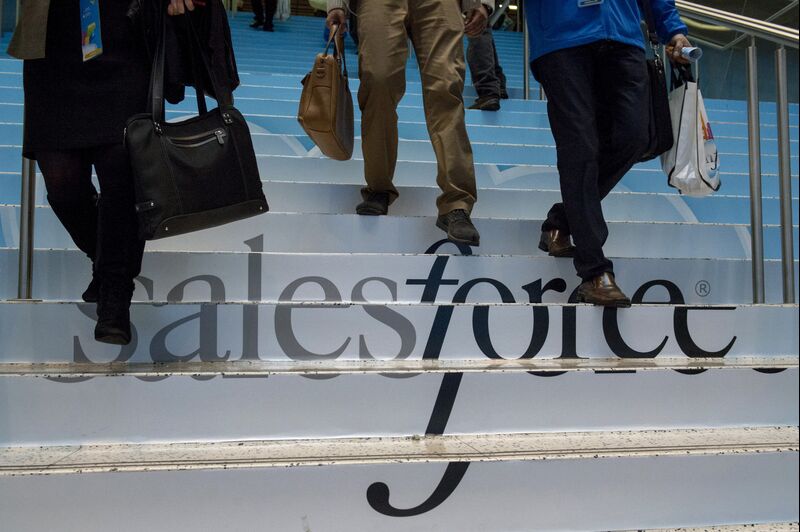 Salesforce.com Inc., the largest maker of online customer-management software, is investing $100 million in Canadian technology through a venture fund to support tech start-ups.
The Salesforce Ventures unit set up the Canada Trailblazer Fund to help cloud-computing startups in the country, the San Francisco-based company said Thursday in a statement. First-round funding recipients include Tier1CRM, Traction Guest, Tulip and OSF Commerce, which all have products that integrate with Salesforce's platform.
"Our hope is that this fund is really going to help fuel more innovation, more start-ups and obviously that will lead to more jobs in Canada," John Somorjai, executive vice president of Salesforce Ventures, said in a phone interview. "Enterpreneurs are going to have more access to capital to help them grow their companies and really showcase their innovation to our more than 100,000 customers globally."
The move comes about three months after Salesforce said it planned to invest $2 billion in its Canadian business in the next five years, adding employees, office space and data center capacity. A global shift to cloud computing has created unprecedented spending growth by Canadian companies in this area, Salesforce said, noting IDC forecasts Canada's online software market to grow almost six times faster than on-premise software deployments this year to reach C$4.1 billion ($3.2 billion) by 2019.
"We want to help more companies grow, showcase their innovation and really have it exposed to our entire customer base," Somorjai said.
The Salesforce fund adds to what has become one of the best starts of the year for venture capital investment in the country, according to Canada's Venture Capital & Private Equity Association. About C$3.8 billion was invested last year, and with C$690 million spent in the first quarter this year, "we are off to an even better start than in 2017," according to Darrell Pinto, the association's research director.
Salesforce's $100 million fund ranks as the third-largest venture capital fund in the past couple years and 11th largest overall for the country, according to a CVCA ranking. The largest was the C$375 million Georgian Partners Growth Fund III, announced in 2015.